2023 World Chaîne Day
Saturday, April 22, 2023
6:00pm Champagne Reception & Hors d'oeuvres
6:45pm 5-Course Dinner with Wine Pairings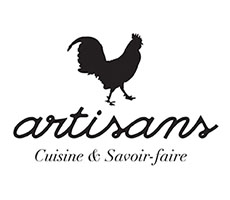 3201 Louisiana St  |  Houston, TX 77006
Réception
Les Hors d'Oeuvres
Cajun Shrimp Boil Beignet topped with Créole Rémoulade
Caviar, Smoked Salmon, Blini
French Scrambled Eggs w/ Truffle Parmesan Crisps
Nicolas Feuillatte Réserve Brut Champagne
–
Le Menu Du Chef
Le Foie Gras Chaud et Froid
Pan-Seared Hudson Valley Foie Gras
Truffle and Apple Compote, Toasted Brioche
Balsamique Demi-glace
Cyprès de Climens Barsac Sauternes, 2012
–
La Noix de Saint-Jacques, les Écrevisses Louisiannaise
Seared U-8 Scallop
Creamy Crawfish & Saffron Risotto, Tempura Asparagus
Sauce Marmite
Cristia Châteauneuf Pape Blanc, 2020
–
Le Loup de Mer du Chili, le Crabe Bleu du Golfe du Mexique
Chilean Sea Bass Confit with Jumbo Lump Crab
Carrot Pasta, Sweet Pea Purée
Black Garlic and Lemon Velouté
Domaine Matrot Meursault, 2018
–
Un Interlude
Lillet Blanc, Yuzu Liquor, Lavender Syrup, Champagne, Lemon Peel Garnish
–
Le Filet Mignon, le Homard des Eaux Froides
Roasted Petite Beef Tenderloin, Butter Poached Lobster Tail
Tallow Seared Sweet Potatoes, Prosciutto Haricot Vert Bundles
Sauce Béarnaise
Château Peyrabon Haut-Médoc, Cru Bourgeois, 1996
–
La Tarte Caramel & Chocolat au Beurre Salé
Salted Caramel Ganache Tart
Strawberry Sorbet, White Chocolate Truffle
Grand Marnier Chantilly, Macaroon Crumble
Taylor Fladgate 20-Year-Old Tawny Porto
Members: $280 | Guests: $295
Limited to 40 guests.
Attire: Black Tie with Ribbons
Chef Jacques Fox
Chevalier de l'Ordre National du Mérite Agricole de la République Française
Born in North Africa "Sidi-Bel-Abbes" and raised in France by Polish grandparents, Chef Jacques Fox demonstrated an early aptitude for cooking even before graduating from high school. After moving to the United States, Chef Jacques worked at several properties, including the four-star Hotel Bentley in Louisiana, Moody Gardens, the Wentletrap Restaurant in the five-star Tremont House Hotel, and the Conrad N. Hilton College of Hotel and Restaurant Management at the University of Houston. Chef Jacques also served as Executive Chef for the Briar Club and the world-class Miramont Country Club. Most recently, Chef Jacques was the Executive Chef and food and beverage director at Briarcrest County Club. In addition to his culinary work, Chef Jacques holds several educational titles including a certified hospitality educator (CHE) designation from the American Hotel and Motel Association Educational Institute and a Certified Executive Chef (CEC) title. He is also a member of La Confrérie de la Chaîne des Rôtisseurs where he held the title of Conseiller Culinaire des Etats-Unis. This title afforded Chef Jacques the opportunity to visit numerous culinary schools across the globe. He currently holds the designation of Conseiller Culinaire Honoraire des Etats-Unis Conseil D'Honneur and has served as the National Board Member In-Charge of the Young Chef Competition for seven years. As Chef Jacques strongly values educating future chefs, he guest lectures to students enrolled in the University of Houston's highly respected Hotel and Restaurant Management program through the Barron's International Dinner Series. In 2010, Chef Jacques collaborated with David and Sylvain Denis to bring innovative French dining to Midtown Houston through Artisans Restaurant, which opened in 2012 to great critical acclaim.
Chef Russell Kirkham
A native of Louisiana, Russell Kirkham grew up hunting and fishing on the bayous where he learned to butcher and cook the wild game he caught. As his passion for culinary knowledge grew, he looked to his grandmothers for inspiration. They taught him an appreciation for cooking traditional Cajun food as well as the importance of seasonal, fresh ingredients. At 18 Chef Russell was given the opportunity to work in his first professional kitchen at the Atrium Hotel, which is the only full-service hotel in Monroe, Louisiana. After working for several years honing his skills and creativity Chef Russell moved to Houston to attend the prestigious Art Institute of Houston in pursuit of a culinary arts degree. While in school, he was exposed to Houston's rich and varied culinary and restaurant environment. Since graduating, Chef Russell has had the opportunity to work at many well-known Houston restaurants including Noe Restaurant, Max's Wine Dive, Brasserie Max & Julie, Beaver's, Feast, and Divino Italian Restaurant. Chef Russell brings his passion for classic French food highlighting seasonal, fresh ingredients to Artisans.
By way of participating in a Chaîne activity, members and guests implicitly grant permission and hold harmless the Chaîne to use their likeness and those of their guests in photographs in all its publications and any and all other media, without compensation.
2023 World Chaine Day - Artisans